A Mountain Hearth Christmas ~ Day 4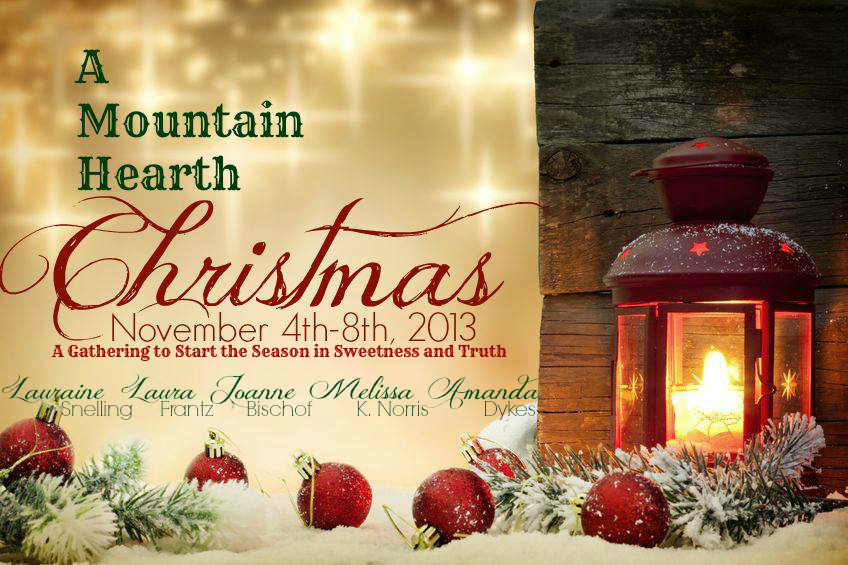 Imagine a fireside scene…
Logs crackle,
Sparks dance,
Conversation stirs…
The air is tinged with the warm scents of fresh-baked cookies.




That's where we invite you this week…

To a place of sweet fellowship, sharing not just the recipes of a traditional cookie exchange, but also the corners of our hearts where we hold cherished scriptures.
Our hope through this blog hop is to join with you in starting the holiday season off in gentle, truth-filled simplicity, and perhaps even inspiring a new tradition in your home.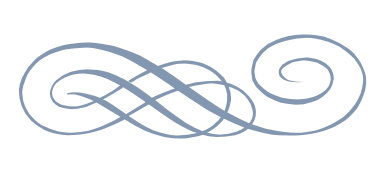 The Way It Works:

Readers who "hop" from blog to blog this week will have five printed recipes and scriptures by the end of the week. The scriptures can be crafted into the beginning of a scripture garland– a place to gather verses close to the hearts of those you love. They can also be used as ornaments or gift tags.
Read on for more information, and be sure to check the list of all five stops at the bottom of this post!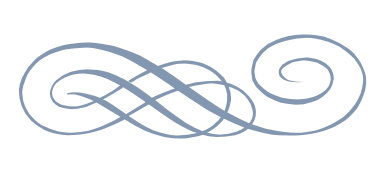 First of all, Welcome to the Sierras, home of beautiful Lake Tahoe! Take a moment to view this music video to immerse yourself in the place that I'm blessed to hold in my heart. So much of my own life story is tied to this beloved place, I suppose it's only fitting that my fictional stories are set here, as well.
Did you read the Little House books as a child? I remember listening as my mom read them to us, and thinking how utterly splendid it was that they made candy by pouring maple syrup into snow. I think we may have even tried it ourselves one time!
So when this blog hop rolled around and I got to thinking "what recipe could I use that would say "Tahoe!"? I did a little research to compose my own rendition of that recipe. Tahoe may not be known for its maple syrup operations, but… snow? That's a different story. Tahoe gets plenty of snow! So here, for your candy-making pleasure, is the recipe for…
Maple Snow Swirls
Ingredients:
• 2 cups real maple syrup
• 1/3 cup salted butter
• 1 teaspoon vanilla extract, or ¼ teaspoon Almond extract for flavoring
• Candy thermometer
• Fresh snow (feel free to substitute crushed ice or ice cream)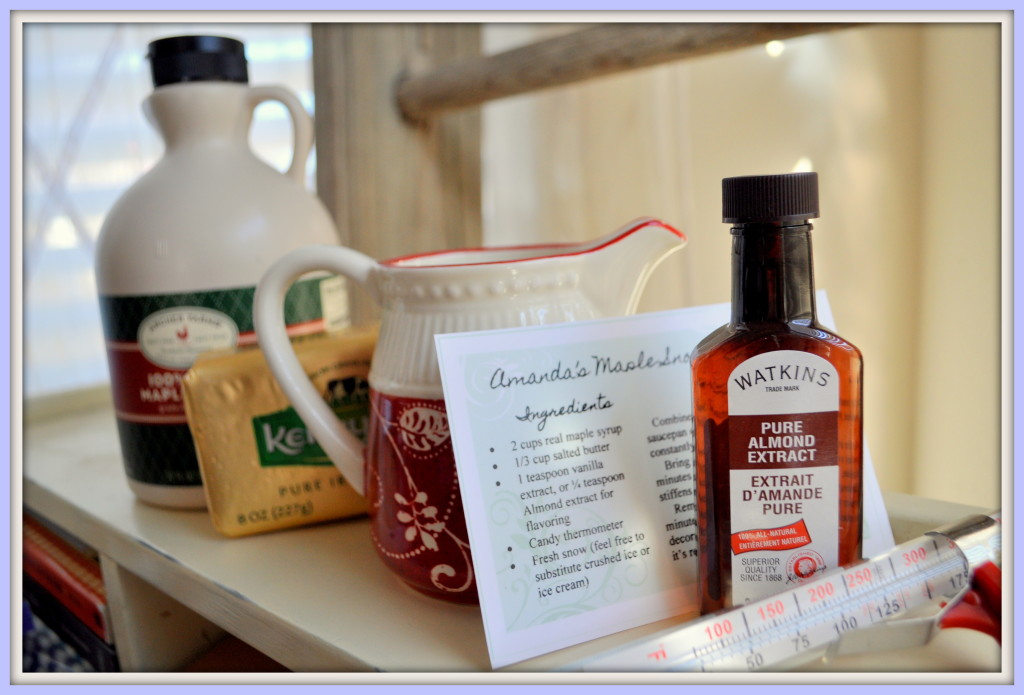 Directions:

Combine syrup, extract and butter in a saucepan over medium-high heat, stirring constantly.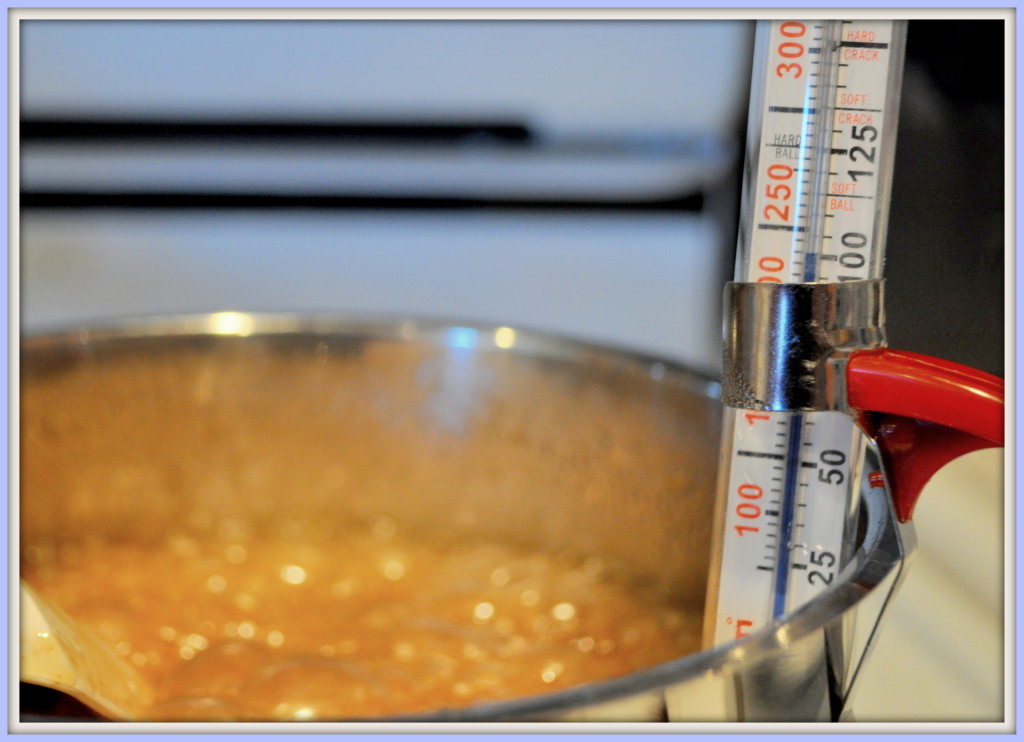 Bring mixture to a boil. After about six minutes (220-234 degrees), test to see if it stiffens when drizzled on a plate.
Remove from heat. Wait about two minutes, then pour/drizzle over snow in decorative patterns. If fresh snow isn't readily available, feel free to use crushed ice or vanilla ice cream.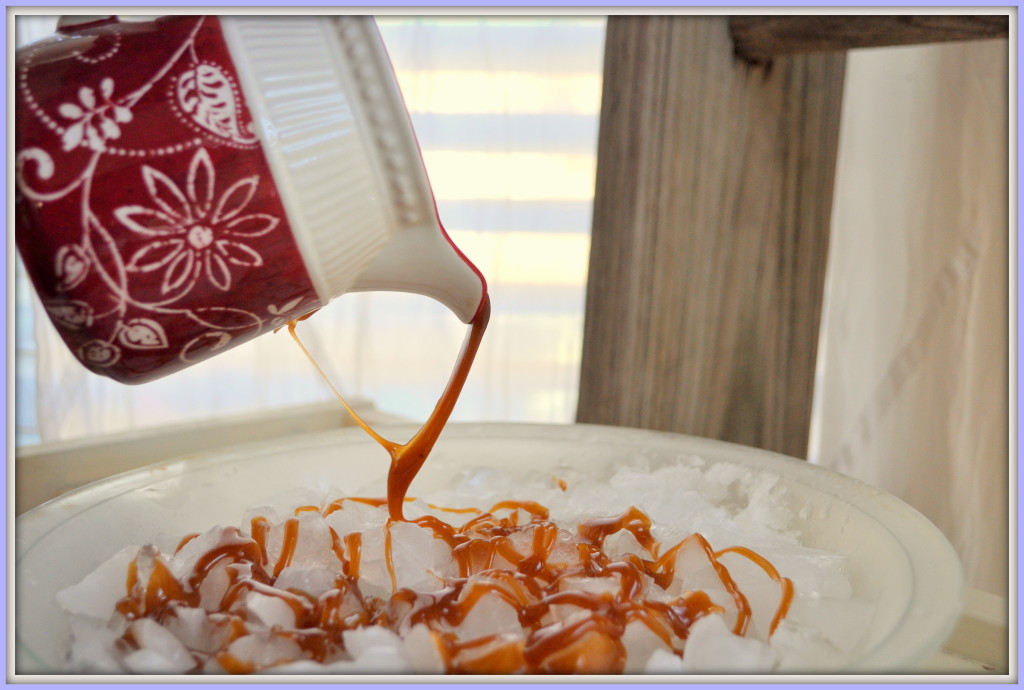 (Aside: this is a very sweet mixture. If you like a little bit of salty with your sweets, sprinkle a light dusting of salt over the candy at this point.)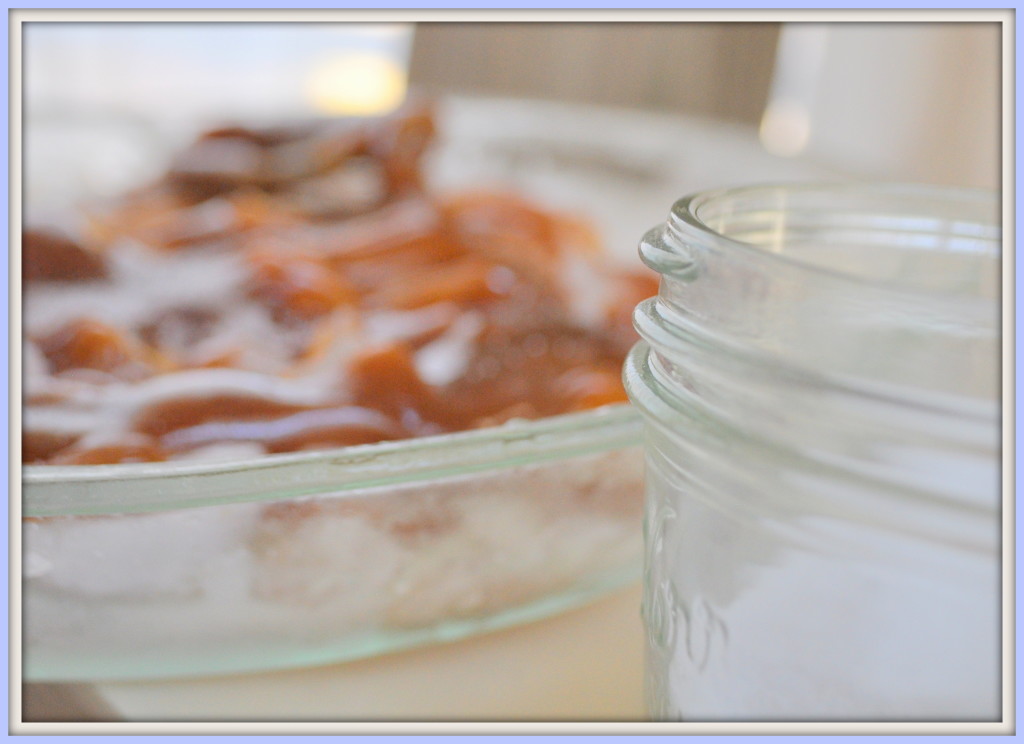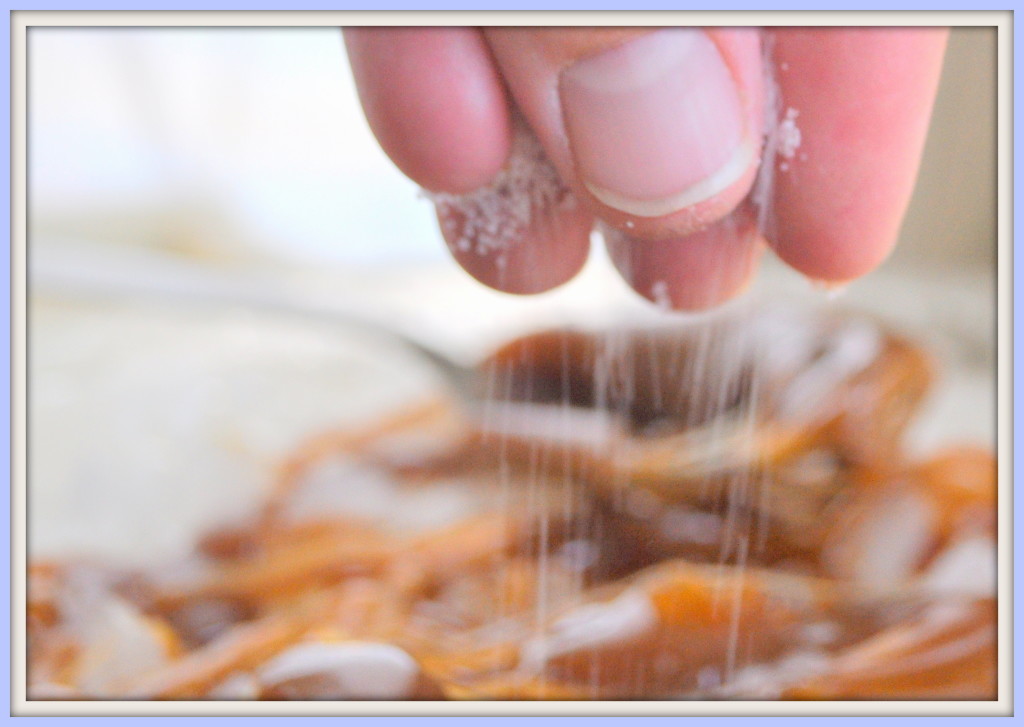 As soon as it's cool, it's ready to eat!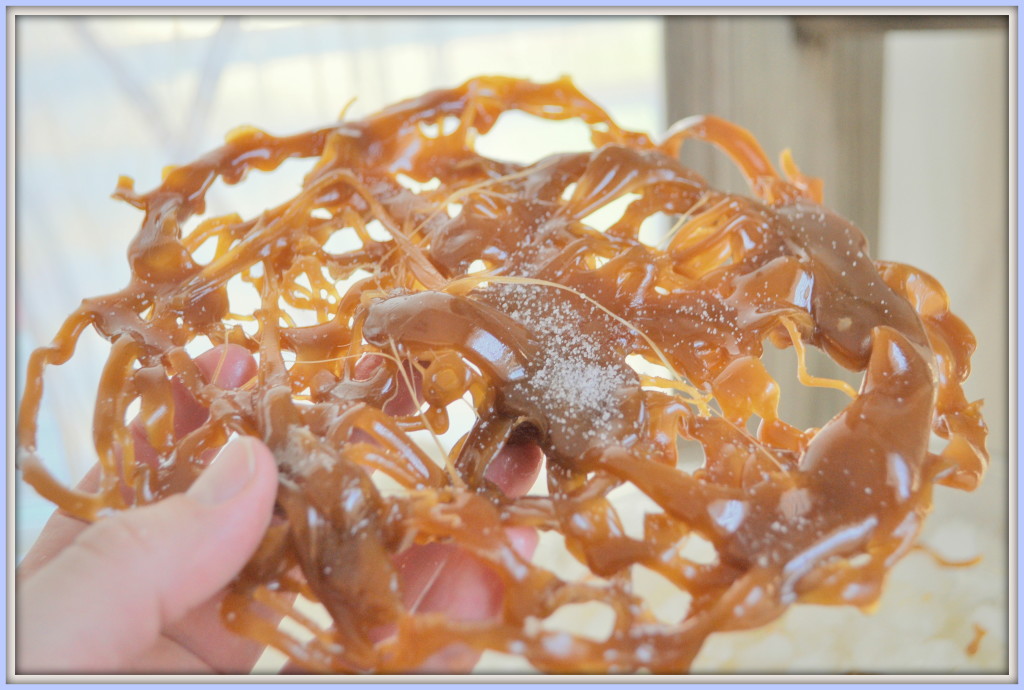 Perfect for crumbling over ice cream, cheese cake, mixing into your favorite cookie recipe, or just as a sweet treat on its own.
To print this recipe, along with the verse I'm about to share with you, click below to download the file I've just loved making for you.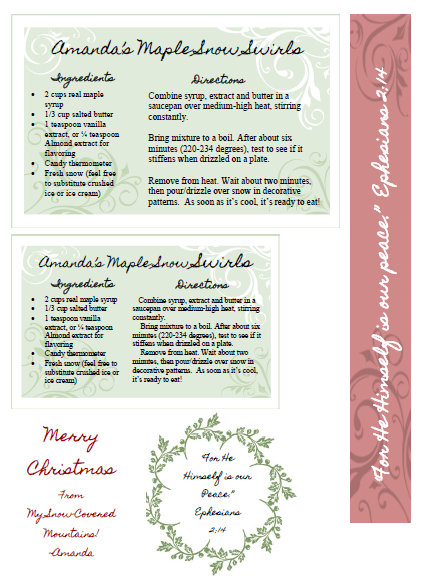 If you've been following the blog hop this week, you know we're each sharing a scripture that's dear to our heart. You can cut out the strip and create a paper chain/garland with them, or cut out the wreaths that bear the scriptures, to use as ornaments, gift tags, or to adorn pine garlands, etc. The hope is to create a simple but meaningful reminder of the life that this season celebrates, and the Life Eternal that we share, as a result.
My verse is…
"…for He Himself is our peace." Ephesians 2:14
You see, I am a peace-craver. When life gets a bit turbulent, I yearn for peace. If you've read any of my blog posts, you may have seen a pattern: I need reminders of where to find this peace. I need to remember: my peace is Him. Not smooth-sailing, or calm waters, but His presence in the midst of it all. If you'd like a further peek into my heart's journey in this area, I wrote about this recently here.
And so, as the season of remembering where this peace all began– in the shadows of a manger, with promises wrapped in every moment– that is the verse I hold dear.
The God and King who humbled himself to draw near to me, that I might learn to draw near to Him… He is my peace.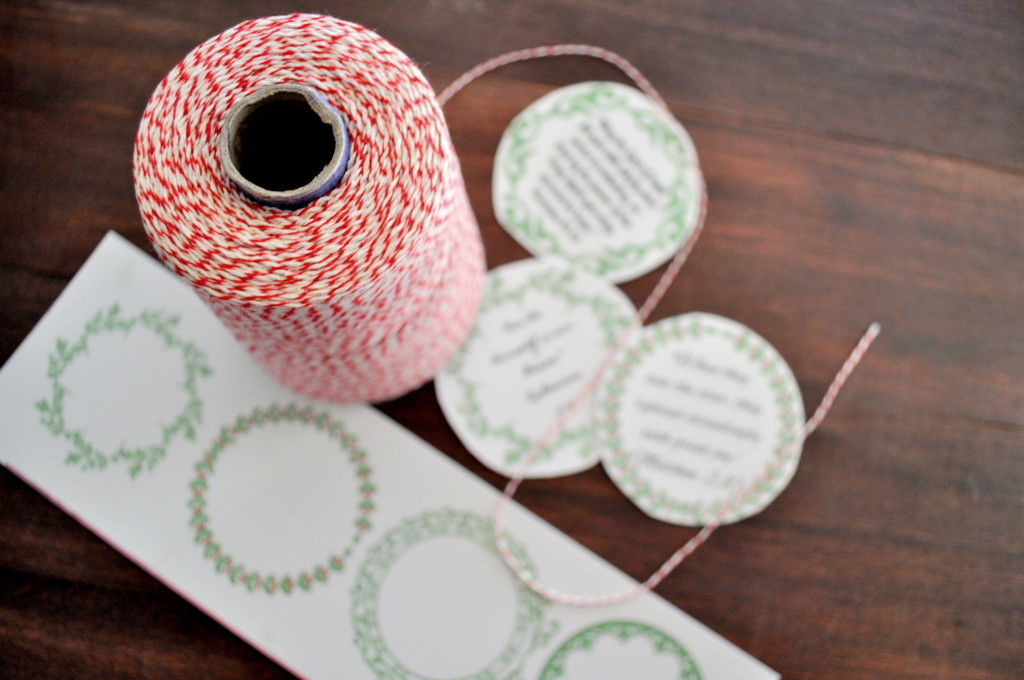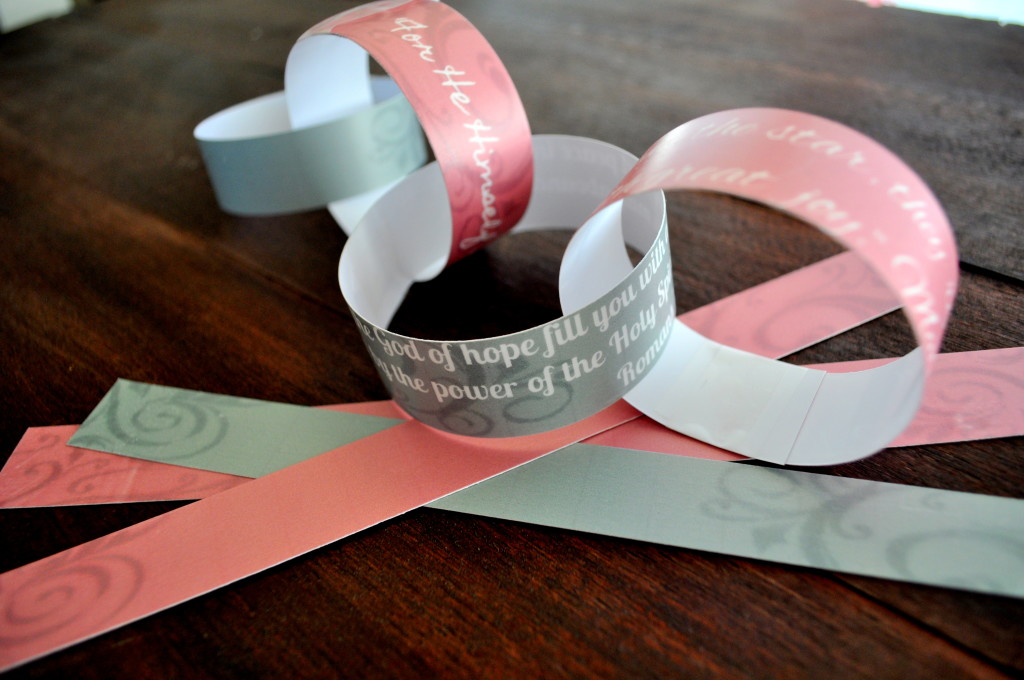 In the comments, would you share a favorite scripture of yours?
Or perhaps a favorite Christmas memory, moment, or song?
At the end of the week, each of the five of us will pick one of the scriptures from our comments, and put them together on one last printable for you in the days that follow. When all is said and done, you'll have 10 scriptures total to begin your scripture garland, and we'll provide you with a blank template as well, should you wish to carry on the tradition and include more friends-and-family-favorite scriptures in your garland.
Check back here next week for information on where to find those last printables!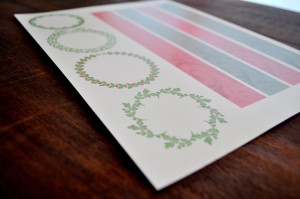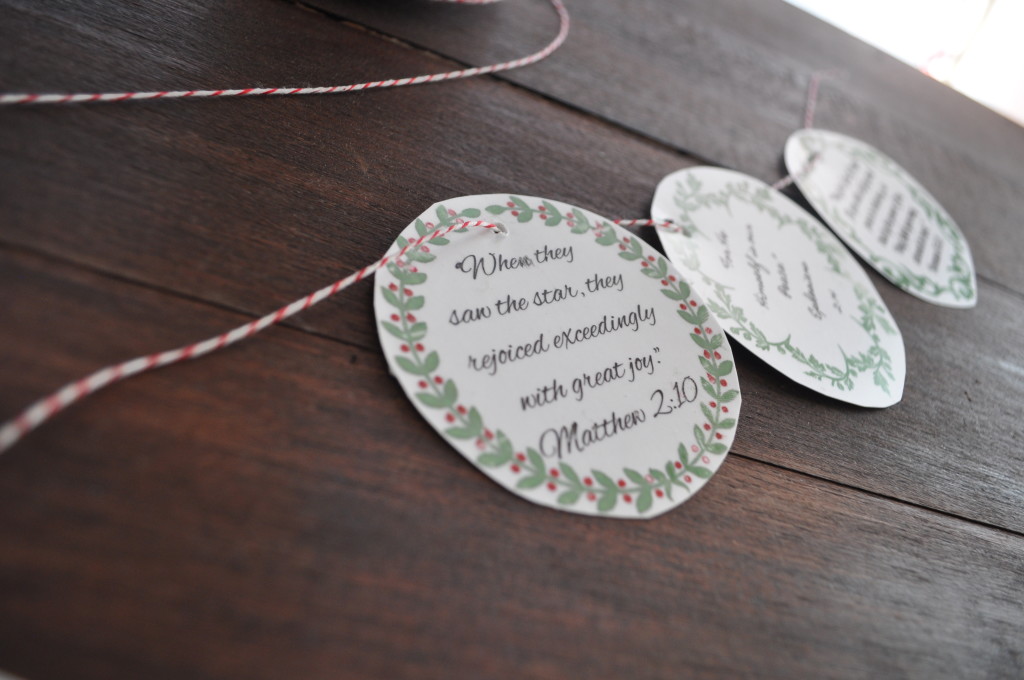 Oh! And before you go? I have a special Christmas surprise up my sleeve for my dear newsletter subscribers…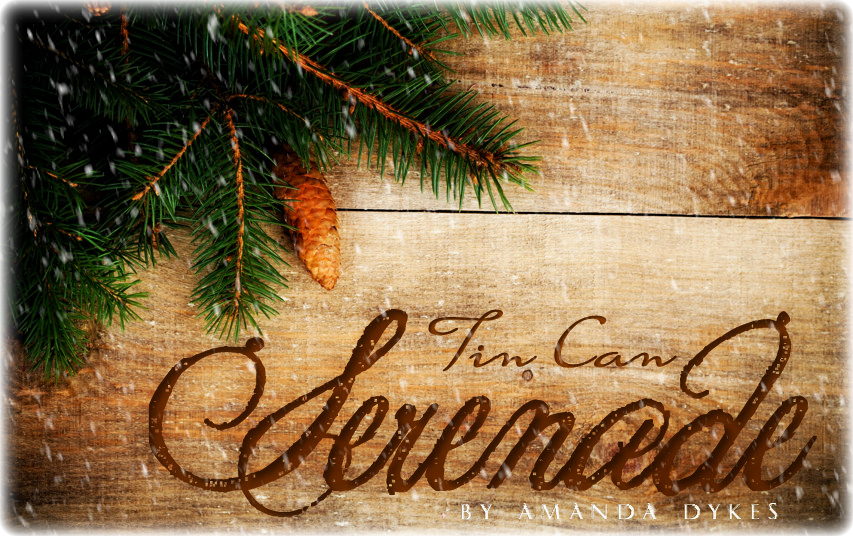 Tin Can Serenade is a Christmas short story told entirely in the form of letters. This project has been such fun, especially because I had the delight of weaving readers' special Christmas memories into the story.
(Thank you to those of you who shared your special stories with me last July! For you, especially, I'm excited to share this.)

Here's a tiny sneak peek at the first pages…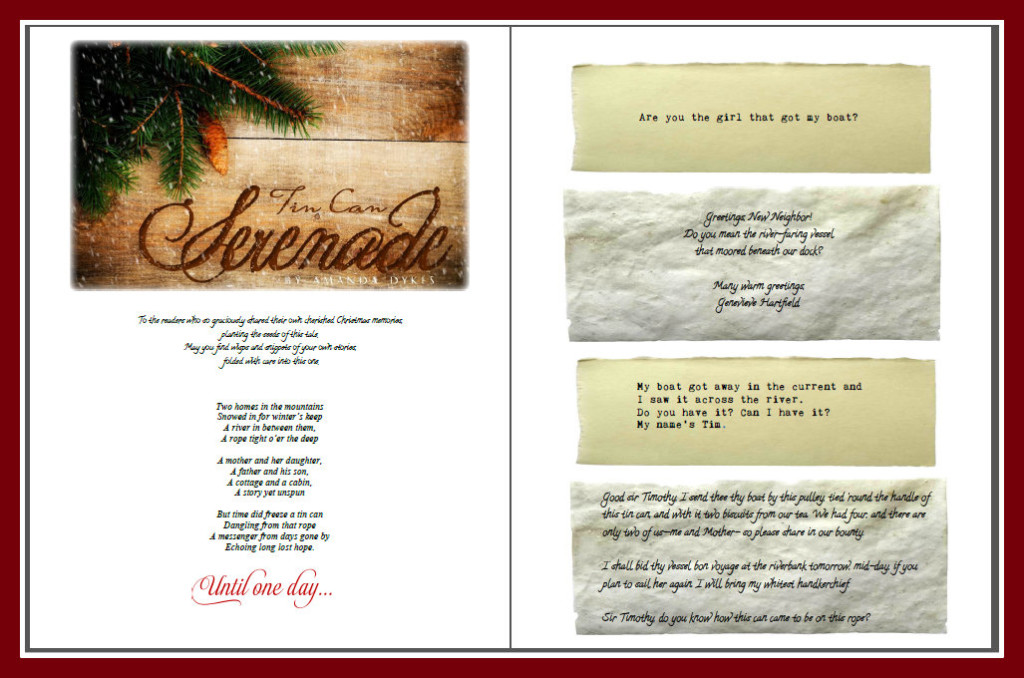 If you'd like to receive Tin Can Serenade, I'd love the chance to send it to you this December. Just sign up for my newsletter below and watch your inbox for it!
(This signs you up for my newsletter, which is sent out a few times a year, and for periodic blog posts as well. If you'd rather not receive the blog posts, you can sign up for just the newsletter by clicking here.)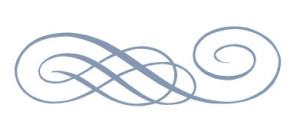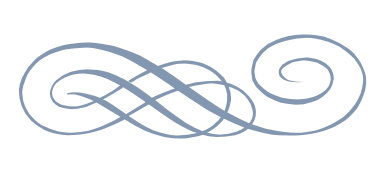 If you know someone who might enjoy the recipe, fellowship, and short story, would you consider sharing this post on Facebook by clicking here?
You can also click to tweet a little invitation, if you mingle in the Twitter-sphere at all. 😉
Merry Christmas, my friends!

I'll see you tomorrow for Lauraine's post– and my, does she have a treat in store for you. Meet right back here on my blog to discover her family lefse recipe!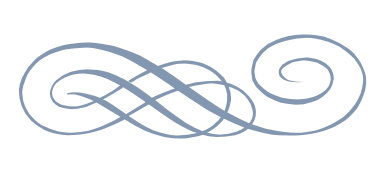 The Mountain Hearth Christmas Line-up:
Monday 11/4: Laura Frantz
Tuesday 11/5: Joanne Bischof
Wednesday 11/6: Melissa K. Norris
Thursday 11/7: Amanda Dykes
Friday 11/8: Lauraine Snelling