We Never Had a First Date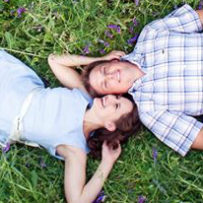 We never had a first date.
There was just that day when we met, and you helped me staple my backpack shut. Friendship, then best friendship, then this crazy awakening of hearts and a kiss beneath a streetlamp.
…and the rest is history.
Three years in after that kiss, we climbed a mountain and you knelt and I saw forever in those blue eyes of yours. We scribbled a note on a paper, put it in the time capsule mailbox, and you shouted to the world below that I'd said yes. Youtube didn't see it, and we didn't have Facebook to change our statuses on— but somehow we were official still. 😉 I had a simple gold band with a precious gem that captured light, and the heart of a man I couldn't believe chose me. We hiked back down the mountain with hearts full of hope and promise, and drove to the store to buy sparkling cider.
We got married before Pinterest. But our day was simplicity and truth and people we love. It joined me to you, and you to me. It was ours.
You thought maybe we could sail off into the sunset, but I knew about a certain capsized sailboat in a certain person's history, so instead we loaded up into a decorated pickup truck and drove off onto our honeymoon… which was full of laughing and love and flat tires and steaming car engines and wrong turns and campsites and hotels lined with books and history. There was the tram ride in the redwoods, where we stepped out to see the much-heralded glorious view. The operator fellow at the top greeted us with a Puddleglum voice and welcomed us to "His foggy kingdom," and although we couldn't see but a few feet in any direction, we loved it. On we drove. There was the giant xylophone band, the spiral staircase in the lighthouse—and most of all, there was us. We were each other's, at last.
From the first shoebox apartment with no stove and a tiny refrigerator (long live the hot plate and the ice chest!), to married student housing, with the football stadium cheers flooding through our windows every Saturday from up the hill, to the funny little house with the golden mailbox, to our little cottage… I've been with you, so I've been home.
The walks and bike rides we used to take with our galumphus of a golden retriever-ish dog, who took it upon himself to break free from us and run onto the soccer field, where a dozen six-year olds shrieked in glee: It's Airbud!!!! …while we scrambled like mad to catch him.
The garlic pranks.
There was the blindfolded sunrise picnic you gave me, the time I sent your name to Mars on a NASA rover, the day you orchestrated a solitary scavenger hunt for me with a surprise party at the end of it, the time I stole your falling-apart Bible (can we just take a moment to appreciate that? I stole a Bible!!) and sent it away to be re-bound, the time I tried for 6 months to potty train a child and then left for 5 days and came back to find it was finished—and you'd taken all the credit (I'm willing to give you that one). The endless montage of my clumsy moments with your ever-patient laughter and solutions coming to my rescue (He picked a huge fallen boat up off of me with his bare hands, people. Chivalry is not dead!). The time you made dishwasher fish (don't ask) the first day we had company arriving in town, and the whole house smelled oceanically horrid for the rest of the visit.
The prayers. Every morning, every night, bookending our days together with our God. Knowing Him with you. Understanding His love more through you.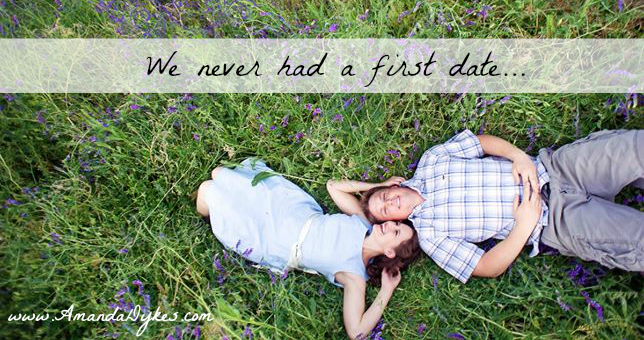 More garlic pranks. We could probably write a book about those.
You drove me down that bumpy dirt road to get me to the emergency room in the middle of the night so that I could bid farewell to my appendix (sianara, organ!).
And then a few weeks later, again—when the pain was so bad I started saying my goodbyes to you… you held my hand and probably my hair while I vomited and cried in the waiting room…and it turned out to be a kidney stone.
You held my hand through it all.
And held it for years, then, when our little cottage yawned empty. There was room—so much room—in our hearts for the little ones we longed for. Room and silence, silence and room.
…and then they came. Miracle by miracle, they came, and I've watched the heart of the man I love grow even bigger, and I fell more in love with you still.
The moments that will never find words here, because they're ours, just ours, and I'm selfish. I don't want to share them.
The moments that will never find words here, because they're bygones, and we choose to forget them.
From heartaches we never expected, to joy-moments we never imagined, we were each other's.
The talks about real things, the talks about silly things, the deep philosophical questions in earnest and the jokingly not-so-deep philosophical questions about things like, I don't know, how in the world you thought Pride and Prejudice took place in the deep south, and why in the world I cried during X-men. The garlic pranks (please, no more?), the crazy spontaneous dance parties in the kitchen with our little family, the dueling Pandora stations, the dreams we buoy up and fight for on behalf of each other, the joined passion of living this life in a way that matters…
This is life with you.
It's been a decade. A decade of this.
And I just want to say…
Thank you.
I love you, my Beloved.