Writers' World Blog Tour
What joy is mine today! I get the pleasure of shining the spotlight on two dear friends, and I couldn't be more thrilled.
As part of the Writers' World Blog Hop, I'll begin by introducing you to the (amazing!) author who tagged me. But my joy doesn't stop there; at the end of this post, I get to point you in the direction of the (also amazing!) author who will compose the next installment, too! In between, I'll slip in the answers to the four blog hop questions about what I'm currently working on.
So. First off is…

the beloved Laura Frantz. Laura is someone who lights this world up as much with her beautiful heart as with her breathtaking words. Each of Laura's books is an incredible work of story and art. Silas and Eden, the main characters in Love's Reckoning, have an especially fond place in my heart, though. Their story just grabbed hold of me a few years back and hasn't let go since.
Last week, Laura shared a little peek at what project she's currently working on here. Oh, do hop over there and read her words—you won't want to miss them!
Award-winning author Laura Frantz is passionate about all things historical, particularly the 18th-century, and writes her manuscripts in longhand first. Her stories often incorporate Scottish themes that reflect her family heritage. She is a direct descendant of George Hume, Wedderburn Castle, Berwickshire, Scotland, who was exiled to the American colonies for his role in the Jacobite Rebellion of 1715, settled in Virginia, and is credited with teaching George Washington surveying in the years 1748-1750. Her family resides in Kentucky and Virginia.
According to Publishers Weekly, "Frantz has done her historical homework." With her signature attention to historical detail and emotional depth, she is represented by Janet Kobobel Grant, Literary Agent & Founder, Books & Such Literary Agency of Santa Rosa, California. Readers can find Laura Frantz at www.laurafrantz.net.
Laura was so kind to pass along a few questions to answer. So, to give you a little peek into my writing world… here they are!
What are you working on?
I'm working on a project that I'm so excited about. It's called Bespoke…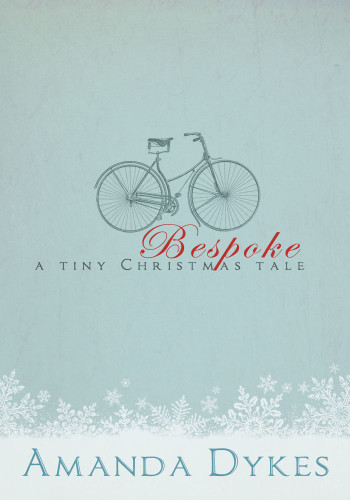 …and it begins with the tale of Giovanni St. John, a very tricksy fellow indeed. He finds a way around what some believe will be his imminent demise. And the result… oh, I wish I could tell you. But I can't! I won't. I shan't! Stay tuned in November to discover all.
(But there's a Secret Symphony.)
Oops. Did I just say that? Just pretend you didn't hear that.
(But there is a Secret Symphony– The Secret Symphony of Giovanni St. John– and the mystery of it spins the tale in a direction that Maestro St. John certainly never expected when he thought he was being so clever!)
How does your work differ from others in its genre?
What a fun question! The first thing that comes to mind is the project format itself.
Bespoke means "custom-made." And this tiny Christmas tale I'm working on is tailor-made to include little treasures for readers: hints at their own stories, memories, traditions, and more. After all, in the end, a story is about its reader's heart. A reader's heart is one of the most cherished things there is, to a writer, and so the chance to slip something special from those very hearts, right into the pages of a book, is such a joy.
It's also unique in that at the center of the story is a bicycle. Well, two, actually. Maybe even more. One fictional, one very, very real. You see, the story is available as a thank you gift for donating any amount to the Bespoke Gospel for Asia campaign, which is providing much-needed bicycles to missionaries in Asia.
I was stunned, absolutely stunned, when the first bicycle for GFA was fully funded within two weeks of the campaign being announced. So now, any incoming donations go toward another bicycle. I never expected that, but God has a way of doing things beyond what we imagine, doesn't He?
You can find out all the details over at the Bespoke page, if you're curious to know how to contribute your own snippets of memories, traditions, etc. for me to tuck into the details of the story, or to find out where to donate.
And finally, it's different in its length. It's a novelette (longer than a short story, shorter than a novella). Because it will release during the busy holiday season, its length will be just right for sneaking some reading into a stolen few moments… but won't be so short that you'll be throwing rotten figgie pudding at me. (Or so I hope. 😉 )
Why do you write what you do?
I think you deserve a break from my wordiness, so I'm going to answer that question with a song…
Didn't Josh Wilson say that perfectly? I suspect this is the case for each of us, in our different professions and callings. We do what we do because He created us to. He placed it on our heart, gave us the tools, planted a passion for His people in that particular area. The passion he gave me is for words to communicate His love to His people, through story.
How does your writing process work?
It's a tug-o-war. Part of my brain is extremely linear, so when I'm planning a story, spreadsheets abound. I corral points of view, scene numbers/goals/types/events, and key questions in their neat columns until everything is mapped out before the actual writing even begins. But part of my brain stubbornly refuses to be boxed in by spreadsheets and inevitably, right in the middle of a story, the characters will do something I never expected. At that point, the spreadsheet gets scribbled all over until no one on earth (except me) (and sometimes not even me) can read it, much less make sense of it. By then, though, so much of the story is written in my heart that I rarely consult the all-knowing story spreadsheet.
Let's put it this way: You know that opening scene to Anne of Green Gables: The Sequel, when Anne's pages go flying over the grassy dunes? She laughs that contagious laugh of hers and taps her head and tells the dashing Morgan Harris that "it doesn't matter. They're all up here anyway."
If that had been me, with my 15-page spreadsheet, there would have been hyperventilating instead of contagious laughter. Which, let's face it, would have made for a much less whimsical opening scene. 😉
So. There's a little glimpse into the way I go about scribbling down these stories in my head… always with you in my heart, dear friends!
Now, it's my pleasure to pass the blog hop baton off to…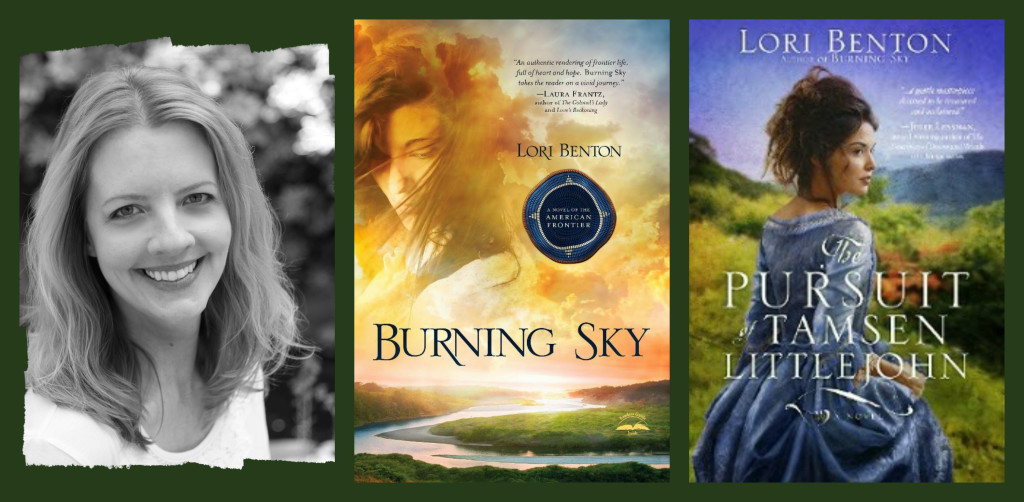 The wonderful Lori Benton. Lori made her debut with her 2013 novel, Burning Sky, and captivated us all immediately. In fact, that same title was awarded three distinct Christy awards at this year's ceremony. Each honor so incredibly well-deserved. And, do you see that warm smile on her face? It's so telling of her heart: beautiful, giving, so full of love for the writing craft, for her readers, and for her God. I'm also reading The Pursuit of Tamsen Littlejohn right now and am just as captivated as I was with Burning Sky!
Lori Benton, author of the acclaimed Burning Sky, was raised east of the Appalachian Mountains, surrounded by early American and family history going back three hundred years. Her novels transport readers to the 18th century, where she brings to life the Colonial and early Federal periods of American history. When she isn't writing, Lori enjoys exploring beautiful Oregon with her husband.
Lori will take the blog hop from here, posting her wonderful insights next Monday (8/25/14) at http://www.loribenton.blogspot.com/
So, tell me readers– have you had the pleasure of enjoying any of Laura's or Lori's wonderful books?