Grace and Snickers and the Day I Cried at the Grocery Store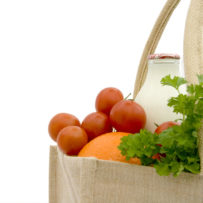 I almost made it through the check-out line before I started to cry.
It was one of those trips to the grocery store. Actually, it was that trip to the grocery store. There's never been another one like it.
I'll spare you (most of) the details, but suffice it to say that by the time we made it to the check-out stand, the baby was crying and the binky was lost somewhere between aisle 9 and aisle who-even-knows(?!), and the groceries were falling between the cart and the conveyor belt and the other young one was quite ready for nap time and I didn't have enough arms for anything and somehow a Snickers bar ended up in the cart that I promise I never put in there and I should probably have just eaten it right then and there for the sake of the world at large but didn't and—
Then I had this horrifying thought. Through the tears I blinked back, and beneath that trembling chin of mine, and underneath the arms full of bananas and lettuce and small human beings, I thought… People here know I'm a Christian. What if they see me barely holding it together—or very successfully not holding it together, and think badly of God? Am I mis-representing Jesus? Am I failing them? Him?
Later on, after the wee ones had settled and the groceries were put away at home, I looked back on the incident, grappling with something about it.
Something wasn't right. I mean, beyond the chaos even, something wasn't right.
I'd never felt the pressure of God's love like that before.
You know why?
Because when God's love stops giving grace and starts giving pressure to keep up appearances, it's not God's love. It's pride.
Bear with me for a moment. I'm not saying that God's love doesn't call us to accountability, or to a change in the way we live. It does, absolutely.
But when I begin thinking that it's up to me to display God right, put on some kind of perfect show, rather than being honest, open, and letting Him work in me to display His grace and love… I've got it all wrong. That's me, thinking of myself more highly than I ought, and suffering for it.
Instead of the faulty thought process above, what if I'd been vulnerable enough to think…
…People here know I'm a Christian. What if they see me barely holding it together—or very successfully not holding it together… and see me clinging to His grace in that moment with everything I am and everything I'm not. See a strength that's clearly not mine. See His love in action. See His strength made perfect in my weakness. See redemption, living redemption.
My friends, I missed it.
I was so busy trying to cover up the fact that I was at the end of my rope… that I missed the lifeline right in front of me.
I was so busy trying to represent God well, that I got in the way of a thing of beauty: His grace.
Isn't it amazing, the way He meets us so completely in our very brokenest moments (so broken I had to invent a new word, apparently)? And He takes us in His arms, enfolds us in those nail-scarred hands, and reminds us—He is enough. His grace is sufficient. He gives beauty for ashes. Perfection? Is Him, completing and redeeming us.
That is what I want people to see. That is what I want my children to see in me, and to know in their own dear, cherished hearts…
Him. His love in my heart that's so in need of Him. Grace poured in, that grace might pour out. Love-hewn Grace.
It's that beautiful truth of James 4:6:
"But He gives more grace."
Isn't it amazing, too, the way He seems to prepare us with the truth we need, at exactly the right time? I have to tell you that I've been reading a book dealing with this very thing. And what's more, it was written by a very dear friend of mine…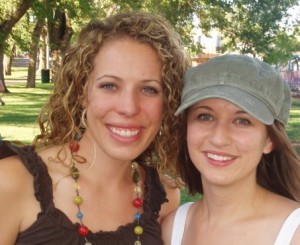 (That's us, the day before her wedding! Isn't she wonderful? Yes, yes she is. Make sure to check out her blog!)
Katie Tramonte and I grew up together, camping every summer as kids, going to prom in high school, diving into Bible study together in college (she taught, I provided the chips and salsa), trading lessons learned in the classroom when we were both teachers, being in each other's weddings, and now, as we discovered only a few months back, travelling the writing road side by side.
Katie's book, Gospel-Centered Womanhood, is a Bible study full to the brim of redeeming, freeing, Biblical truth. She was so gracious to give me a copy for myself, complete with an inscription that I'll cherish all my life, as well as a copy to give away here.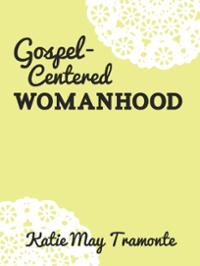 The words she speaks are so full of refuge, truth, and a heart that aches for women to know the freeing grace of living fully in God's unique identity for each of us, His daughters. Throughout the book, she uses the solid guidance of scripture to bring to light the very truth I forgot this morning in the grocery store (in fact, now that I think of it, she has a quoted passage in there that may as well have been a snapshot of my grocery store moment!).
That freeing truth is: We are not perfect and are not created to live behind a pressure-filled guise of perfection. But He loves us, redeems us, heals the broken places in us, and has amazingly unique purpose for each of us.
It is my joy to facilitate the giveaway Katie is so generously sponsoring. If you'd like to enter for a chance to win a signed copy of Gospel-Centered Womanhood, simply leave a comment below (Be sure to include your e-mail address so I can contact you if you win).
…and I'm going to toss in a Snickers bar for the winner, too. Just because. 😉
On Friday, July 5th, 2013, I'll announce the winner here at the bottom of this post.
(Must be 18 or older and a resident of the United States or Canada to enter. Winner will be chosen at random using random.org.)
Update: Giveaway is now closed. Congratulations to Laurie Tomlinson, winner of the giveaway! Laurie, I'll be in touch via e-mail soon.