The Christmas Chronicles: Aria St. John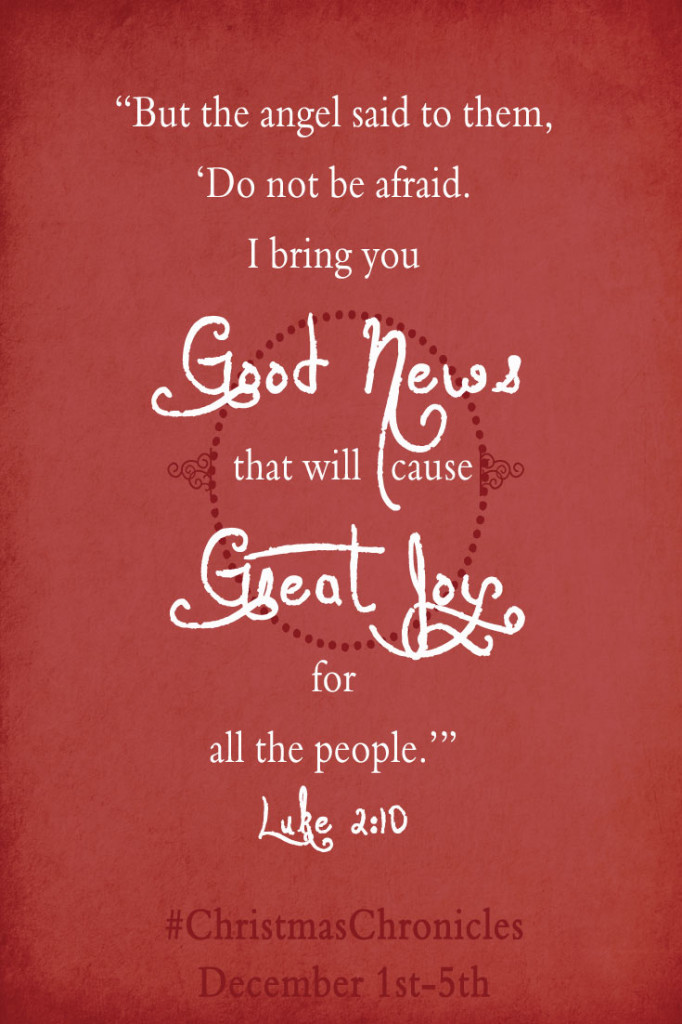 The Christmas Chronicles is a blog hop between 5 historical romance authors. Our desire is to bring you joy through these letters, grounded in the true spirit of the season, and written from the fictional viewpoints of each book's heroine. We're so glad to have you join the event. Each day this week, a new Christmas Chronicles post will go live, complete with a letter and a new ornament giveaway for that blog post.
To read more about the project and enter for a chance to win this fresh evergreen wreath which represents the gift of eternal life, click here.
To find your way to the other four blog posts and enter each of the five Christmas Chronicles individual giveaways, read on! We have a list for you at the bottom of this post.

Dear James,
Had I a candle, and were there not a sea of water and silence between us, I'd light it in my window for you right now. Perhaps you'd see it, and we'd meet on the shore like we used to. Perhaps it would be as though nothing had ever happened to separate us.
The words come slow now as I write this… but not for the reason you may think. There are volumes of stories to tell, but they can all be wrapped up not-so-neatly in three small words that I fairly tremble to write:
I'm coming home.
I wonder so many things, James. When I get there—will the island still feel like home? Will you have the bonfire burning on the green like you sometimes used to as Christmas drew near, for the village children to warm their hands by?
You always said that was the beauty of fire. That even in the coldest winter, the warmth would always transform the cold, and not the other way around.
I'm counting on that.
For I have a secret, James. A plan.
I will tell you all once I arrive, if you'll speak to me. And if you won't, why, I shall just make a nuisance of myself until you've at least heard the fullness of the insanity of my scheme.
I think of home—our little Isle in the great big ocean—and its ever-in-between state. Part English, part French, never sure quite what to be and as a result, settling into its own quirks complete with feuds and legends and lore, hemmed in by ebbing and flowing tides all around.
I understand it now, in a way, that in-between identity. I'm part what I once was, part what I may someday be, not quite sure what that makes me now and as a result, I'm rooting deep into what's directly before me: the chance to redeem something lost.
Do you remember that day we explored the sea cave when the tide was low? We were just children and as you rowed the boat into the darkness, I held out the lantern and wove a story for you of how the sea cave came to be: a young girl adrift on the waves was weary, lost and alone. She fell to her knees in the bottom of her weathered rowboat and prayed for a haven, a place of safety to call home. When she opened her eyes (oh, how you snickered at me when I told this part, James. You horrid creature.) a rainbow alighted on the side of an island cliff, and right before her eyes the very rock opened like curtains into the form of a cave, beckoning her into its safety.
…There is a slight chance that I now understand why you snickered. I will say no more on the matter. Except that while I may have wiped a tear from my eyes after my own tale that day, let it not be forgotten that I dealt you a proper blow the moment you cocked your brow at me and didn't even attempt to stifle your laugh.
I remember that you advised me to avoid listening to all tragic ballads henceforth, and then you told me a tale of your own. A true story, unlike my tall tale. Of how the waves beating upon the island broke it, bit by bit. Changed the landscape of it completely until there was an entire cave there.
That is what I've clung to these silent years, James. Just as broken land can hold great definition and worth, I've learned that sometimes, God allows the broken places into our lives to become places of deep healing, places of hidden treasure. A place of safety and refuge.
Well. Perhaps your ten-year-old self didn't use those precise words. But you've always held wisdom in your heart, as long as I've known you. And I thank you for sharing that good news with me that day. The truth of such redemption has kindled such joy over the years, and I have so much to tell you now.
I shan't mail this, as we depart Guernsey tomorrow and will be in Castlebury on Espoir in just a matter of hours. I'd beat my own letter to the smithy door.
But perhaps I shall light that candle for you after all.
Until then, my beloved friend,
Aria
 Win this custom-made treble clef ornament, formed partly from brass, which plays an important role in Bespoke.
To enter to win Aria's ornament and an e-copy of Bespoke
, simply leave a comment on this post answering one of these two questions:
In Bespoke, Aria discovers joy in the tasks before her, even after a long-held dream seems lost. When you've faced seasons of unforeseen loss, has there been a special scripture that's helped you?
-or-
As you may guess from the cover, Bespoke includes a bicycle as part of its storyline. Do you have a special bicycle-related memory?
For an extra entry, feel free to share about the Christmas Chronicles using the hashtag #ChristmasChronicles on your favorite social media outlet.
12/8/14 UPDATE:
Oh, my. Thank you so much for your kind participation, and all of the wisdom and cherished memories you've shared in the comments! I can't begin to tell you what a blessing it was to dwell in your words there over the past few days. The five of us are more grateful than we can ever tell you for each of you, your beautiful hearts, and your shared words of good news and great joy this Crhistmas!
The giveaways are now closed, and we have the following winners:
Christmas Chronicles Grand Prize Evergreen Wreath: Chris Bures!
Giveaway from Regina Jennigns– the winner is Carrie M.!
Giveaway from Joanne Bischof– the winner is Kathleen Belongia!
Giveaway from Amanda Dykes- the winner is Doris Reedy!
Giveaway from Karen Barnett- the winner is Judy Mayhak!
Giveaway from Sarah Sundin– the winner is Vicki Wurgler!
Winners are being contacted via e-mail.
Thank you again to each of you for giving of your hearts and time to spend Christmas Chronicles week with us!
We invite you to join us each weekday this week as we hop through cyberspace and history, gleaning the love and joy of the Christmas season from each heroine's journey.
Monday, December 1st: Regina Jennings  (Heroine: Abigail Calhoun, A Most Inconvenient Marriage)
Tuesday, December 2nd: Joanne Bischof  (Heroine: Sarah Miller, This Quiet Sky)
Wednesday, December 3rd: Amanda Dykes (Heroine: Aria St. John, Bespoke)
Thursday, December 4th: Karen Barnett (Heroine: Abby Fischer, Out of the Ruins)
Friday, December 5th: Sarah Sundin (Heroine: Grace Kessler, Where Treetops Glisten)
Before you go, I'd like to leave you with  beautiful song for your day, as well as a special invitation. First…
This rendition of Silent Night. It's a song that holds a special place in Aria's heart in Bespoke, and I hope it blesses you today as well. These a capella harmonies are just incredible!

…and finally, I have cooked up a little something special for those of you who've already read Bespoke. As you know, there are some surprise pages in the very back of the book, one of which provides a row of village doors to "step through" to the Bespoke story-world on Pinterest.
However, there is one thing I've been reluctant to pin publicly, for fear of giving away/spoiling an important story element for those who haven't read it yet. Which lead me to create a place to house these "spoilers". May I introduce you to the…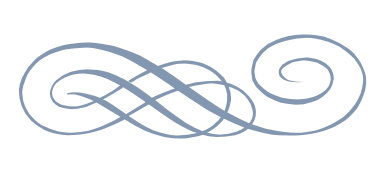 A Secret. A Bicycle. A Promise…
While the elusive Secret Symphony of Giovanni St. John captivated the world's fascination, it left his daughter closed away in the Silent House – she, the one who holds the fullness of truth about the ninth symphony. Now Aria St. John is determined to not only break free of the loss that has defined her, but to honor her father through one final gift in his last days.
On the tiny Isle of Espoir, only one man can help in her quest: James Shaw, the village blacksmith… and the lost friend of her childhood. Will they be able to overcome the tragedy that separated them before it's too late?
To learn more about Bespoke and to find out how to receive it as your special thank you gift for a donation of any amount toward sending bicycles to missionaries in Asia, click here or read on below. …and thank you, with all my heart, for being here today! We're so blessed to have you as part of the Chronicles family!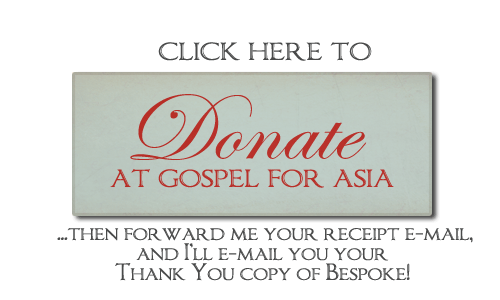 Donate any time between now and December 31st, then
forward your receipt e-mail to BespokeBook (at) gmail (dot) com.