The Message in a Bottle Blog Hop and Giveaway: Stop #3
Flames lapped at the monk's robes. He raced down the corridors that crackled with the collision of dampness and heat, dodging fire-lit debris. So this was to be the end, then. The night the stones of Ballyfir Monastery would tell their last tale…
So begins the tale of a humble monk, his unwavering courage, and the bronze bottle he sends into the night with a prayer that its contents might bring hope—the very word etched into the bottle—to someone, somewhere.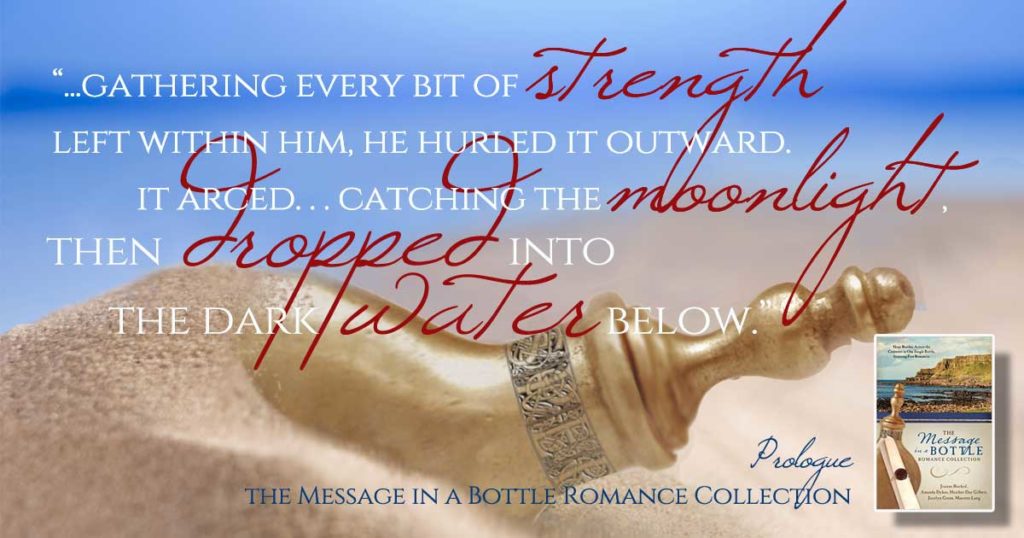 The Message in a Bottle Romance Collection follows the journey of that same bottle throughout the centuries in five novellas. It travels the world and touches hearts… and today, we'd like to invite you along for that journey.
Would you care to come along with us for a look behind the scenes in this short five-stop blog tour?
At each stop, one of the five co-authors will interview another, to take you chronologically through the novella collection and unwrap some fun bonus material.
Joanne  is kicking us off with an interview of Heather, who wrote the first novella in the collection.
Oh! And don't miss the chance to enter the giveaway (more information at the bottom of this post). Thank you for joining us, friends!
Go Behind the Scenes with Author Maureen Lang: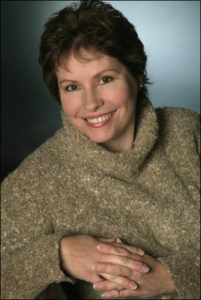 It is my very great honor to get to introduce you to Maureen Lang today. She is one of my very favorite authors, who first stole my heart with her novel The Oak Leaves (a must-read!).
Maureen writes stories that celebrate a mix of God's love, history, and Romance. She is the author of sixteen novels and five novellas, and has been a finalist for Christy, Carol and Rita awards. She lives in the Midwest, is a married mother of three, and caregiver for her adult son with Fragile X Syndrome. Visit her on her website, Goodreads, or Facebook.
Join us as we chat today about her novella, The Forgotten Hope, from the Message In A Bottle Romance Collection.
Maureen, where did you get the idea to write The Forgotten Hope?
I didn't need much persuasion to join this theme-driven novella collection, especially after reading the opening Prologue that sends a bottle on its journey through various historical eras. I loved the idea of having the same bottle show up with different sets of characters touched in some way by the same item. Each of us were given a loose period of time in which to set our stories, and since mine brings the bottle to America, I thought it should enter the usual way during post-Colonial days: through New York City.
Fortunately for me, I've already written a book that was set in New York City. That story took place during Victorian times, but several of my resources went back prior to that period. Early on in my research, I came across a reference to several yellow fever epidemics and that immediately piqued my interest. Once I have a setting and the "germ" of an idea (in this case one tainted with yellow fever!) it's fairly easy to go from there. Who would be most affected by a medical emergency? At the most risk? So my hero and heroine were born—both of them having something to do with the medical community during an era when medicine was very rudimentary. In fact, some of the accounts I came across said in those days surviving a doctor's treatment was often harder than surviving what brought them to the doctor in the first place.
Once I have the basic setting and conflict, my next area to develop is the romance. At the outset of any of my stories I only know one thing: they'll have their happy ending. However, it's my job as a storyteller to keep them apart as long as the story can support. This being a novella, the story has to be a bit more focused than a full-length novel, but it's always fun to think up things to get in their way—because the more obstacles, the better the union is when it finally comes about.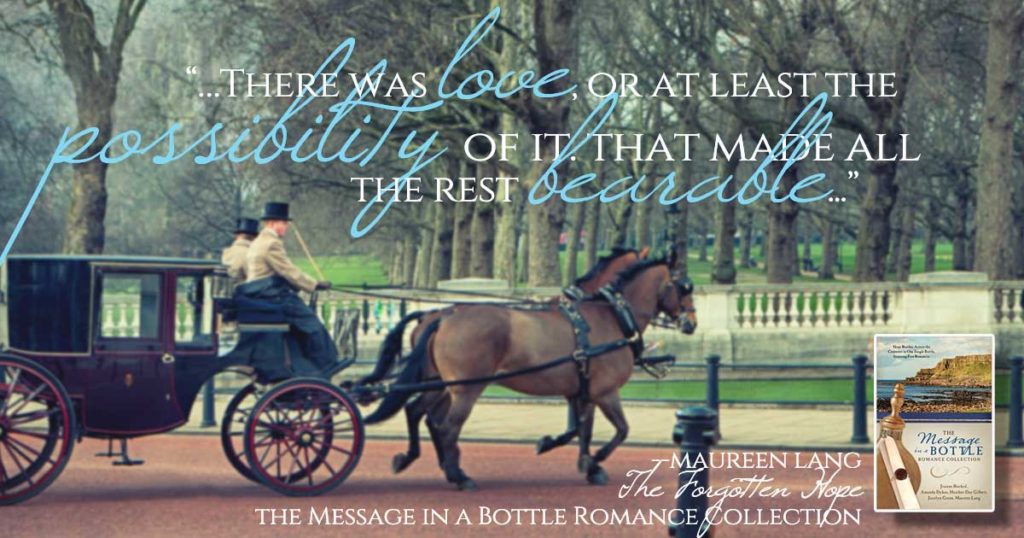 What was the most challenging part in writing this story?
As with any novella, keeping to a reasonable length is hardest for me. I love words. I love long stories. I love having the room to explore why characters get into whatever trouble they get into, and how the setting might impact them—everything from the era in which they live to their family background and secondary characters around them.
It's always a challenge for me to keep focused on one or two main plot points without exploring other areas of interest, but it's also one of the reasons I appreciate writing novellas—to remind me not every trail off the main path is necessary.
In this case my two plot points were the heroine's father worrying about her future (and putting his foot down about her finally devoting herself to finding a husband, thus this is the romantic thread) and then survival when a deadly disease infests their home city. Keeping to those two facets of the story were intriguing enough for me to hold the length to a novella and resolve both within a relatively short span of time.
What was the most rewarding part in writing this story?
I have to admit there were several things especially rewarding with this project, starting off with the opportunity to get to know the other authors in the collection. We were in frequent contact from the beginning, coordinating time periods and titles and character names (even secondary characters) to avoid repetition or confusion. We discussed how we'd be using the bottle, and talked at some length with the author prior to ours which would set up, to some extent, the condition in which the bottle would be received. Now we're working with each other to market the book (as evidenced by this blog hop!) and that's been a blast. These are some of the most generous, talented and creative women I've ever worked with, which is extremely rewarding.
As far as the story itself, I have to admit I had fun with Abigail, my heroine. She's dedicated herself to helping others and luckily has a stomach of steel when it comes to dealing with the often repulsive results when sickness or disease invades a human body. But she's never taken the time to have fun. When her coquettish friend is assigned the task to transform Abigail into a society maiden, it was rewarding to see a character discover she actually liked to dance, to flirt and learn life can be more than just work (even when the work itself is so rewarding). I love it when characters change for the better within a story, and this novella provided that opportunity.
As a writer, what does your daily routine look like?
I try to write every day, and since I'm a morning person that usually means my best energy and creativity come in the early hours. So, as soon as I take care of things, not only around the house but more importantly in the care of my disabled son (he has Fragile X Syndrome, which can result in anything from mild to profound impairment, and he's on the profound end) I usually sit down to write at around 8:30 or 9 a.m.. Since my son's time out of the house is rather short, I only have a few hours of uninterrupted quiet. These days I'm working on a combination of new projects as well as hoping to revive some old, out-of-print books for a second chance to reach new readers. I also have another novella releasing in about a month, and the theme with that collection is the Pony Express era (amazingly short span of time, actually). After that I'll be releasing the third in my Cranbury series, an independently published collection of various romantic stories highlighting characters with a passion for some kind of craft or art. They live in the same little town in Pennsylvania during the first years of the 1900s. Basically I'm always working on something, which is the best way for a writer-at-heart to find happiness.
What do you hope readers will gain by reading your work?
As always, I hope to entertain, to hold a reader's interest long enough to keep turning those pages and investing their time while (hopefully) enjoying my concoction of characters, setting, conflict, action and of course romance. It's a huge compliment for someone to choose one of my stories, when there are not only literally millions of other stories hoping to be noticed, but also endless other venues to entertain these days. Storytelling is one of the oldest forms of entertainment, and I'm blessed every time someone validates my stories by reading them.
The other part of my interest in writing comes from my own spiritual journey. I hope my books remind readers that God wants to be involved in every part of our lives, not just those big moments or when a crisis comes along—although He's certainly available during those times, too! But He's more relational than that, and I hope the stories I tell filled with characters who happen to be Christians will remind people that God can be part of our everyday lives.
Thank you so much for sharing your heart with us today, Maureen. It's a blessing and honor to know you! (Sidenote from Amanda: I positively fell in love with Maureen's novella. It's one of those that just left me feeling so full-of-heart, and pondering the characters long after I'd finished the story. It's one I will be re-reading again and again– such an incredible weaving of plot, character, love and hope!)
A Peek at one of the Giveaway Prizes
Last October, Joanne and I were blessed to get to spend a (salt-air and sea-breeze!) morning at the Old Point Loma Lighthouse, the location of our collection's epilogue.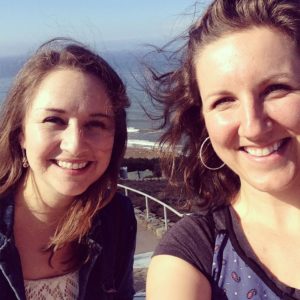 After that, we spent the rest of the day across the bay, poking around the history-laden corners of the Hotel Del Coronado, the setting of her wonderful novella. We even walked along the very beach that her Rosie and Jonas strolled down, picking up shells just like them.
Inside one of the beautiful shops in the hotel, this little glimmer of light seemed to beckon me from its place in a Christmas tree (yes, in October… 😉 ) Looking closer, I saw that the delicate glass oval capsule-type ornament held a single word inside: Hope. Along with these bits of shimmering gold (or dare I say… bronze-esque?) which just sparked the very spirit of that word.
We plucked it from its place nestled in the branches, and Joanne snapped this picture… and now, as you'll see on our giveaway page, our outing to the Del is tangibly a part of our giveaway celebrating you!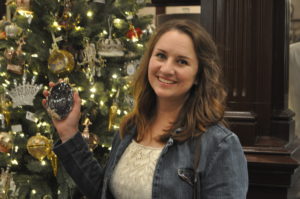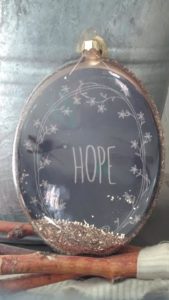 Thank you for being here! If you haven't had a chance yet, do hope over and enter this hope-themed giveaway, which we hope will be a blessing to our readers. It runs through March 15th.

Top 3 Reasons to enter:
We want to celebrate you! We're so thankful for our readers, and this giveaway is one way we'd like to thank you.
Super quick and easy giveaway form—as simple as entering your name and e-mail, then clicking through to submit! As you'll see, there is a chance for additional entries, but it's entirely optional.
…you could win a wee plot o' land in Ireland!

 Not to mention this…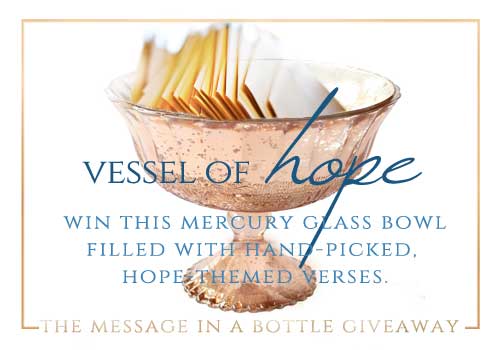 And the…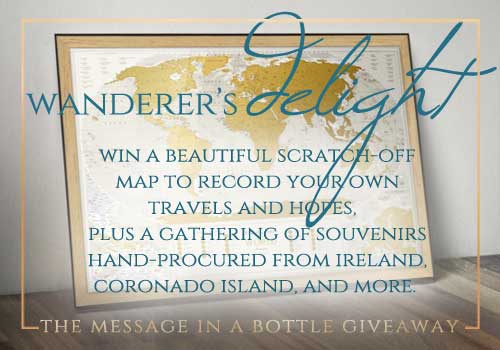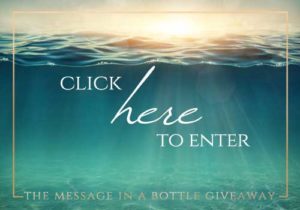 Next up on the blog hop… come say hello to Maureen and Jocelyn over at Maureen's blog. They'll be waiting with a freshly-brewed pot of virtual tea to welcome you!
If you're joining us midway through this short blog hop, do stop by Joanne's post. She kicked us off with a wonderful interview with Heather, and then Heather was kind enough to invite me to her blog for a chat, too!
We're so excited to share some behind-the-scenes fun from each story with you.
Thank you for joining us!
Save
Save
Save
Save
Save
Save
Save